Skip to Main Content
It looks like you're using Internet Explorer 11 or older. This website works best with modern browsers such as the latest versions of Chrome, Firefox, Safari, and Edge. If you continue with this browser, you may see unexpected results.

<! "this is the official school logo" img src="https://www.dlsu.edu.ph/wp-content/uploads/2017/10/dlsu-logo-green.png" style="padding-left:30px">
My Account
My Account Link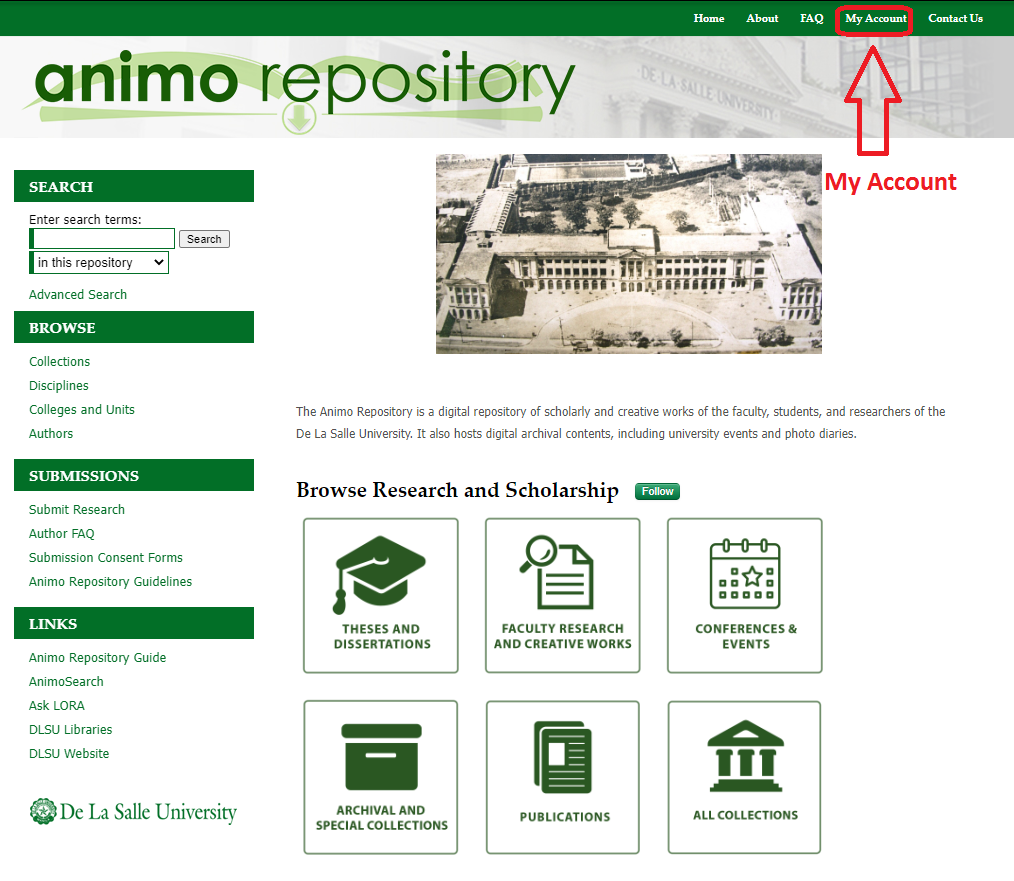 Enter Your My.LaSalle Credentials
View and Manage Your Account
Account Creation and Management
Instructions
Go to Animo Repository or click on this link https://animorepository.dlsu.edu.ph to access your account.
From the

Animo Repository

home page, find and click the "My Account" link in the top navigation bar, at right.
This will take you to the

Animo Repository

login page

.
Enter your My.LaSalle credentials

and you will be redirected to your My Account.
Manage Your Account
Once you are logged in, you can do a number of things from the "My Account" home screen. From this screen, you can:
Create saved searches and sign up for email alerts when content matching your criteria is added

Sign up for monthly readership reports on the content you have submitted (Research Alerts)
Access your Author Dashboard (for more information on the Author Dashboard, please see below)

View the status of content you have submitted
Author Dashboard
Under "My Account," you'll see a link to your Author Dashboard. This allows you to view detailed information about the works you have authored in Animo Repository. Please note that the Dashboard may take a moment to load, since it's pulling in global readership information. The types of metrics you can view from the Dashboard include:
Your readership numbers, parsed by individual content (eg, article) and overall, for whatever time period you specify

The geographical distribution of your readership, complete with maps

The type of institutions that are accessing your scholarship (educational, governmental, commercial, etc)

All of these individual reports can be downloaded or shared, or you can share a snapshot of your entire Dashboard by sending a guest link