How to review and approve ETD submissions in Animo Repository?
[1] Open another tab and go to https://animorepository.dlsu.edu.ph/​ and click the My Account link on the top-right side of the page.
[2] Enter your My.Lasalle login credentials, check the box before the I'm not a robot, and then click the [Login] button.
[3] Click the Manage Theses/Dissertations link under the Administrator Tools.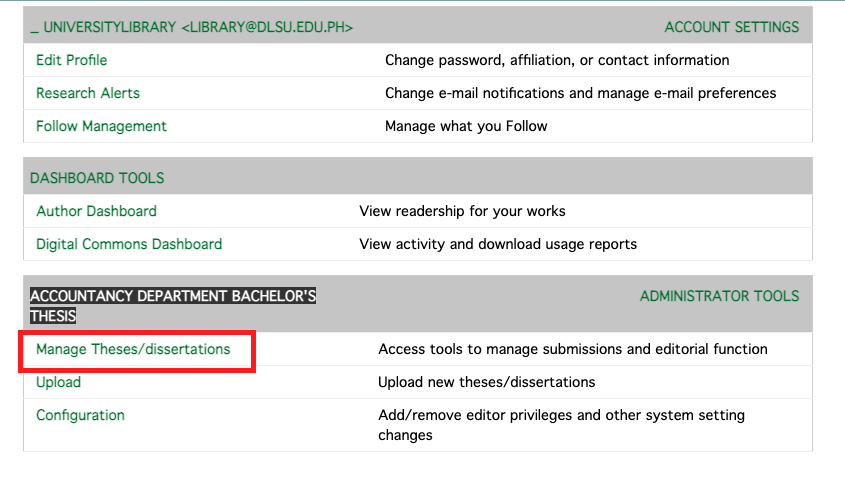 [4] From the Manage Theses/Dissertations page, click the title of the submission that you would like to register a decision.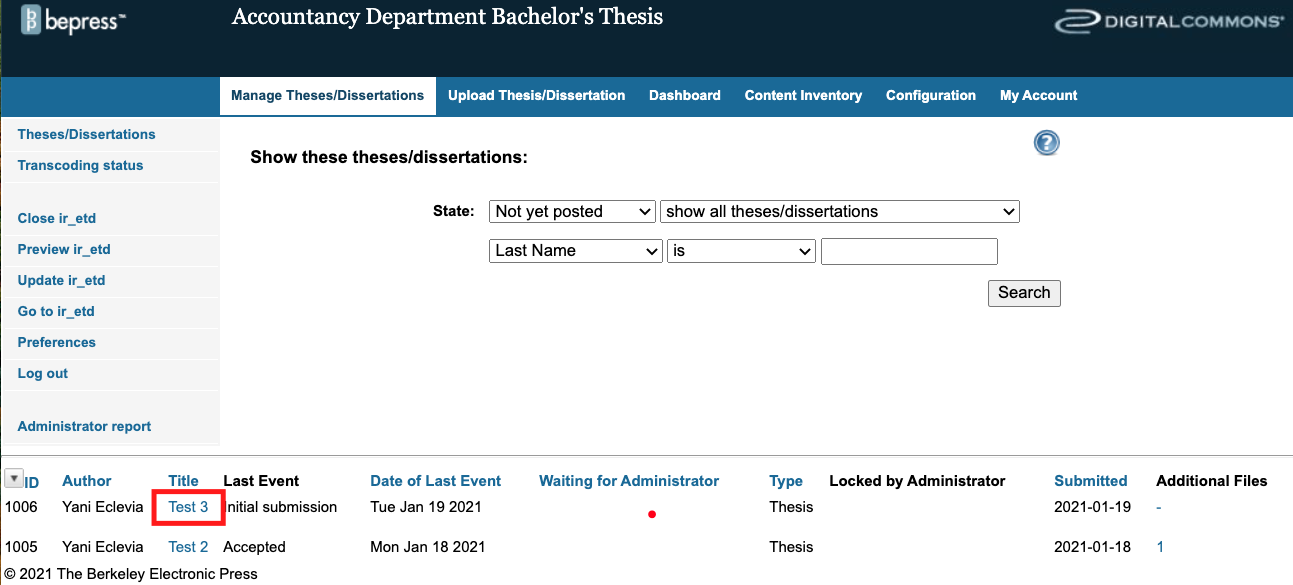 [5] Download the submitted files by clicking the Download link after the Upload Full Text field. Download also additional files.
[6] Open the downloaded ETD submission and review the submission to ensure that it complies with the department's prescribed policies, completeness, format, and file readability/uncorrupted.
[7] Review the correctness and completeness of the required information on the Submission Metadata page.
[8] Click the Register decision link in the sidebar to register your decision.
[9] Record your decision by selecting the appropriate decision from the Select the decision drop-down menu. There are four decisions: (a) Accept Thesis/Dissertation, (b) Accept Thesis/Dissertation with minor revisions, (c) Major revisions required for acceptance, and (d) Reject Thesis/Dissertation.
[10] Once a decision has been selected, the default email will appear on the body of your email. Revise the subject line and body of your email when necessary. Do not uncheck the box near Cc: The Administrators so that Library Repository Administrators will also receive a copy of your decision.
[11] Click the Register Decision button on the right side of the page.
[12] A confirmation message will appear on your screen.
[13] To review another submission, click the Manage Theses/Dissertations tab and repeat steps 4 to 11.
For further help, you may Chat with LORA or send an email to library@dlsu.edu.ph.